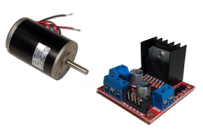 Collection of articles about different types of drivers. From simple drivers that you can build to test concepts, to more advance structures using off the shelf IC's.
DC Motors
Part 2: Simple H-Bridge Circuit to drive a DC motor (with a MOSFET)
Part 3: Off the Shelf High Current PN Half Bridge (BTN8982TA) - soon...
Relays
Part 1: Electromechanical Relays
Part 2: SSR Relays - soon...
Digital Potentiometers
Articles will be developed as needed...