Reference Book
R. Jacob Baker
"CMOS: Circuit Design, Layout, and Simulation"
(IEEE Press Series on Microelectronic Systems)
4th Edition, Wiley, 2019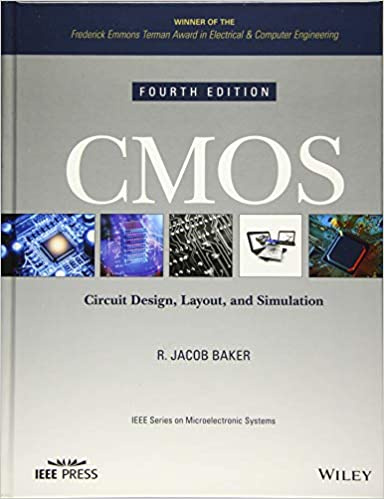 Course Software
Electric: computer-aided design system for electrical circuits. It is primarily intended for integrated-circuit layout, but it also handles schematics and even textual hardware description languages
LTSpice: high performance SPICE simulation software, schematic capture and waveform viewer with enhancements and models for easing the simulation of analog circuits.
Course Goals
Design of Very Large Scale Integration (VLSI) systems.
Examination of layout and simulation of digital VLSI circuits using a comprehensive set of CAD tools in a laboratory setting.
Studies of layouts of CMOS combinational and sequential circuits using automatic layout generators.
Fundamental structures of the layout of registers, adders, decoders, ROM, PLA's, counters, RAM and ALU.
Application of statistics and probability to chip performance.
Use CAD tools to perform logic verification and timing simulation of the circuits designed.
Course Modules
Silicon structure
nMOS and pMOS
Basic logic gates structure
CMOS Fabrication
Layout
Module 2 - Circuits and Layouts
CMOS gate design
Pass transistors
CMOS latches and flip-flops
Standard cell layouts
Stick diagrams
Patterning
Laying Out the N-well
Resistance calculation
The RC delay through the N-well
Module 4 - The Metal Layers
The bonding pad
Design and layout using the metal layers
Module 5 - The Active and Poly Layers
Layout using the active and poly layers
Connecting wires to poly and active
Layout of an NMOS and PMOS device
Standard cell frame
Design rules
ESD protection
DC Characteristics
Switching Characteristics
Layout of the inverter
Module 7 - Static Logic Gates
DC Characteristics of the NAND and NOR gates
Layout of the NAND and NOR gates
Complex CMOS logic gates
Module 8 - Special Purpose Circuits
The Schmitt Trigger
Multivibrators Circuits
Input Buffers
Charge Pumps
Module 9 - Physical Design
Floorplan, power plan, placements, clock tree synthesis, routing, static timing analysis
Verification and Analysis
---