Reference Book
There is no mandatory book for this class.
The instructor will use links from curated websites that will contain the information needed to support this class.
The links will be provided week by week so you can digest the information as you go.
Required Kit
However, it is required to have an Elegoo UNO R3 Kit (or similar)
Amazon Link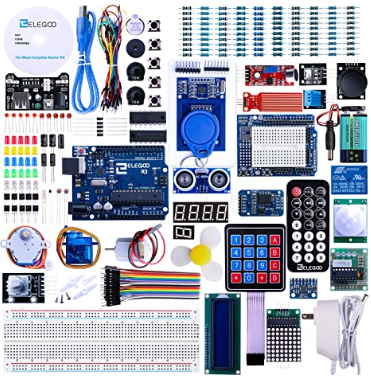 Course Goals
Introduction to fundamental concepts and practices in Mechatronic Systems (emphasis on the Electrical Engineering part of the system).
Theoretical concepts are introduced during lectures and applied during labs with the implementation of projects.
Links
Course Modules
Module 1 - Instrumentation
Electrical Safety
Metric Prefixes
Power supply
AC vs DC
How to use a multimeter
How to use an oscilloscope
Analog vs Digital Signals
Function Generator
Square/Sine/Ramp Waves
Pulse Width Modulation (PWM)
What is Electricity
Ohms Law
Electric Power
What is a circuit
How to use a breadboard
Resistors
Series vs Parallel
LEDs & Diodes
Kirchhoff's Law (KLV & KCL)
Basics of Transistors
Introduction to digital logic
Truth tables
Boolean algebra
FAQs
Question: I didn't take Intro to Mechatronics 1 (ENGR 1622) on my first year, do I need to take it later on?
This class will prepare you for Circuits 1 (ENEE 2012 - Winter Quarter of sophomore year) and it will introduce you to Problem/Project Base Learning (PBLs) activities. This class is not a pre requisite for any class that you will have at DU, however we encourage all students to take it at their first year. In case you miss it (for any reason), you can take it later by signing in to Intro to Engineering (ENGR 1921).

Question: What am I going to expect from Intro to Engineering (ENGR 1921)?
This course is intended mainly for transfer students who are already familiar with engineering topics similar to those covered in ENGR 1622. For ENGR 1921, students are only required to take the lab component of the course. For more details, contact the instructor.
Prerequisites: Permission from the instructor.